How can I upload/download multiple files in New CourseWorks?
New CourseWorks has a helpful "WebDAV"-based interface that can be used to upload/download multiple files and folders to/from system.
To use it, access your course site's "Files & Resources" section and then click on the "upload download multiple files" link.
In the middle of the page is a URL (that starts with https://newcourseworks.columbia.edu/etcetera), which you should copy.
Then download cyberduck and run the software (CCNMTL recommends using Cyberduck on Mac and Windows for the most consistent results). After you've downloaded the software, install and run it. You may cancel or dismiss any of the alerts that pop up as the software starts up.
Paste the address that you copied above into the "quick connect" box at the top of the Cyberduck window and hit return.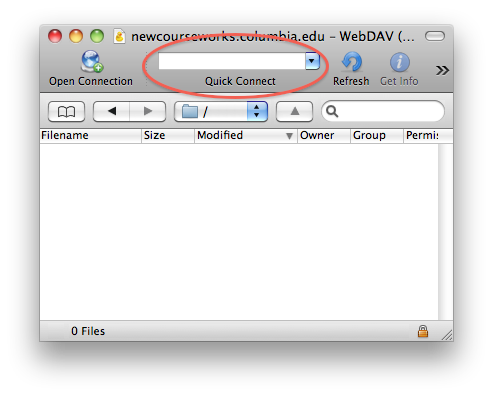 Uncheck the "anonymous login" option and log in with your UNI credentials — now you should then see a listing of the files and folders on your New CourseWorks site.
Once you've established a connection use the "bookmarks" menu item to create a new bookmark so that it's easy to access your New CourseWorks site from your computer next time you have a lot of files to upload.
NB: please be sure that your files are properly named for web distribution before posting them to a New CourseWorks site. Filenames should be short, but descriptive and end with proper file suffices (e.g. .doc / .pdf / .ppt).
CCNMTL has published a number of screencasts and tutorials to supplement the Uservoice articles. Specifically, to learn more about how to transfer files using WebDAV into New CourseWorks, see the below YouTube tutorial.
WebDAV: http://www.youtube.com/watch?v=DGoQNKlUnLc#t=10m35s
Individual topics concerning New CourseWorks are available in the CCNMTL playlist, which are updated on an ongoing basis here: http://www.youtube.com/ccnmtl#g/c/FFFBC71826921C56
Instructors who need assistance should contact the Columbia Center for New Media Teaching and Learning at ccnmtl@columbia.edu or 212-854-9058. Please let us know if this article was helpful by clicking the button below.